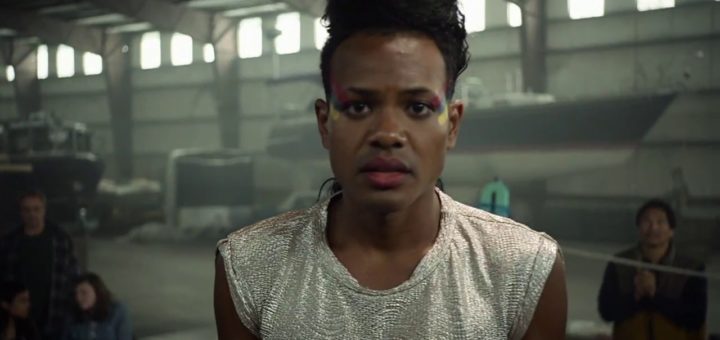 Directed by: Shaz Bennett
Written By: Shaz Bennett
Cast: Martin L. Washington, Jr., Maya Washington, Matt Dallas, Christopher O'Shea, Jason Scott Lee, Margaret Cho, Kevin Daniels, Nia Peebles
Grayslake Campus
Saturday, September 7
3:45 pm
Sunday, September 8
3:30 pm
Waukegan Campus
Saturday, September 7
11:20 am
Sunday, September 8
7:35 pm
ALASKA IS A DRAG is a Fish out of water story – literally. Our hero Leo is an aspiring superstar (Martin L. Washington Jr.) stuck working in a fish cannery in Alaska. Leo sees disco balls in the scales of the fish he slices. Everyone who slices fish all day, daydreams – Leo's are just more glamtastic.
Most of the time, Leo and his twin sister Tristen (Maya Washington) are left to fend for themselves. To escape the monotony of fist fights and fish guts, they create their own magic, the Northern Lights follow them as they vogue down a woodsy path.
They hang out at the one gay bar in a hundred miles, owned by their surly surrogate mom – Jan (Margaret Cho).
Their real mom (Nia Peeples) left years ago and their dad George (Kevin Daniels) preaches on the side of the road. After years of getting beat up by his former best friend, Kyle (Christopher O'Shea), Leo has learned to fight back – his skills catch the eye of his cannery boss, an amateur boxer (Jason Scott Lee) who offers to train him to be a fighter.
And when the new kid in town, Declan (Matt Dallas), wants to be his sparring partner – Leo's worlds begin to collide, Tristen enters Leo in a drag competition – he's never performed for anyone but her – the drag audition falls on the same day as the qualifying round for boxing and Leo has to face the real reason he's afraid to leave Alaska.
Festivals & Awards:
Chattanooga Film Festival – Winner Best Narrative Feature
Tulsa American Film Festival – Best Narrative, Best Director, Best Actor, Best Actress, Best Cinematography
Denton Black Film Festival – Best Narrative
Smithsonian African American Film Festival – Best Narrative Feature
Philadelphia International Film Festival
Hawaii International Film Festival
Palm Springs International Film Festival
Oxford Film Festival
Santa Fe Film Festival
Beloit Film Festival
preceded by:
Desert Rats

Directed By: Shaz Bennett
Written By: Shaz Bennett
Cast: Atsuko Okatsuka, Ryan Harper Gray, Lily Noyes
Festivals: AFI Fest
USA, 9 minutes


Out in the Salt Flats, people think nothing can survive, but Lily did.
Sunrise

Director: Sean Patrick Leonard
Writer: Sean Patrick Leonard
Cast: Shannon Leigh Webber, Brian Barber
Festivals: Twister Alley Film Festival, Windy City Film Festival
USA, 6 minutes


Kim and Brendan have just come home from a night out when things get a bit out of hand. Kim is left to pick the pieces and find strength during a very fragile time.
[products limit="4″ columns="3″ orderby="date" order="DESC" ids="352,351,349,348″]